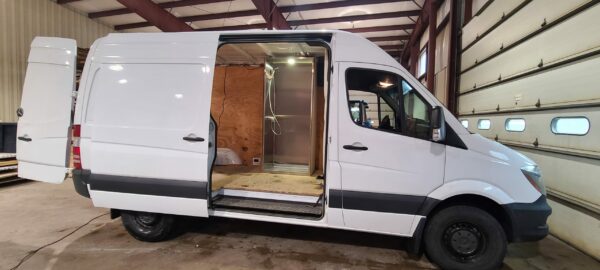 Product Description
Frigo Design designs and builds Stainless Steel Showers and Shower Bases for Sprinter vans and R.V.'s.
Hygienic and anti-bacterial, Stainless Steel provide the perfect material choices where they're needed most. Our showers are shipping in a custom crate all over the United States. Email us for pricing and shipping quote.
Constructed from durable Stainless Steel or Real Copper (Copper will naturally patina) – Rust Proof, and Anti-Bacterial.
Cross break design to insure water pitching to drain.
Custom sizes available – Call 315-842-4487 / 315-842-4501 / 1-800-836-8746
Drain placed to your specifications.
Controls can be placed on right or left side.
Additional Charge Options: Ceiling, Lighting and water controls.
Standard Sizes to choose from: 24″x24″x75″, 24″x32″x75″, 24″x36″x75″, 24″x40″x75″, 32″x32″x75″, 32″x36″x75″.
Contact us about our Custom RV Stainless Steel Countertops