GET A CUSTOM STAINLESS STEEL COUNTERTOP MADE WITH EASE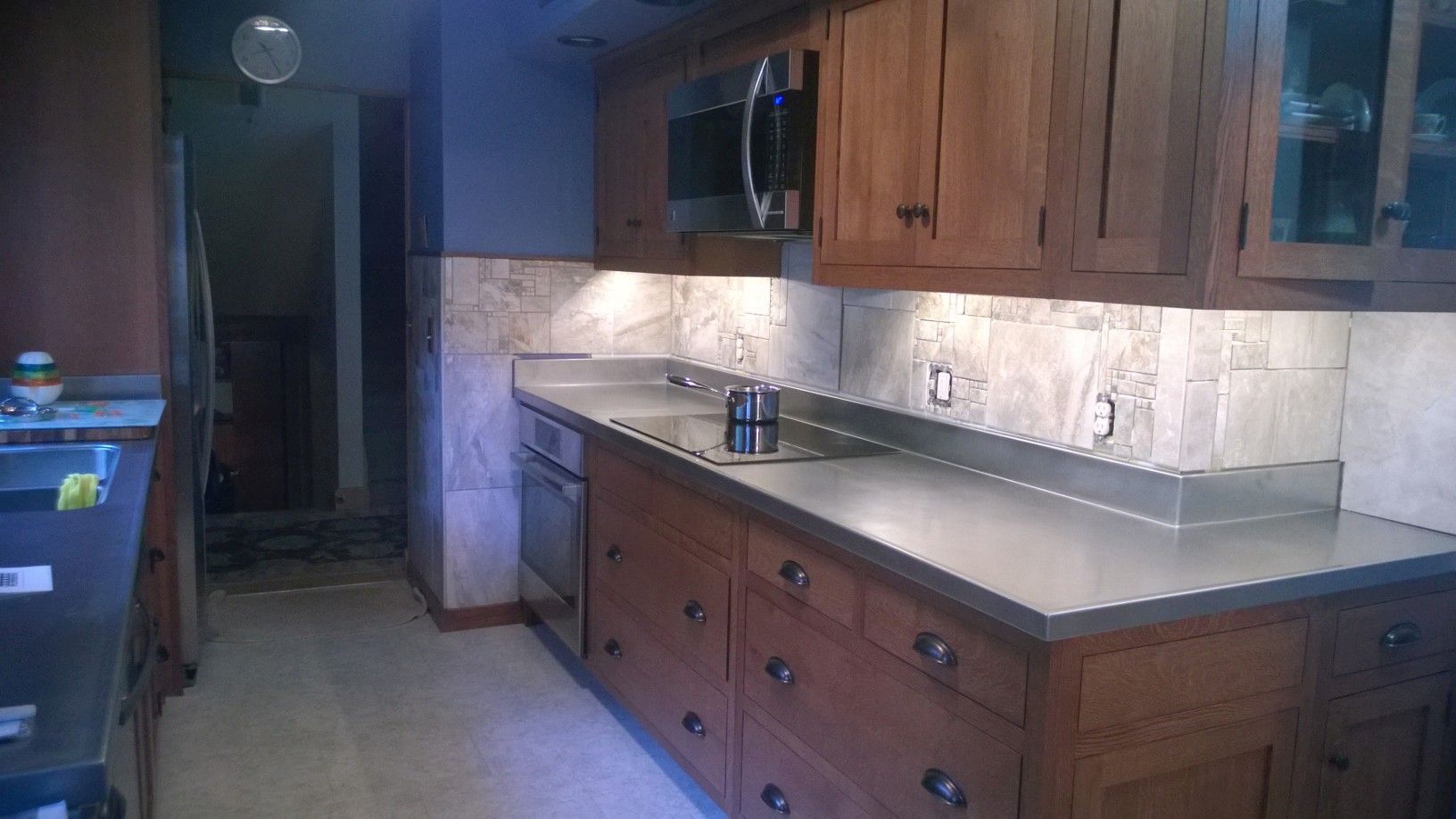 Buying a New Kitchen Countertop?
---
There's a good reason why stainless steel is used in most of the restaurants across the country: it's virtually indestructible. Homeowners can also enjoy all of the benefits that come with Stainless Steel Countertops along with some great additional options.
Including All the Features You Really Want
Delivered Complete
Ready to Be Installed Onto Your Existing Cabinets
Not only are stainless steel counters beautiful to look at but they are resistant to water, heat, stains and just about anything else. Stainless steel has a non-porous surface, which means that liquids can't penetrate into the material. Enjoy a hygienic surface for preparing meals while practicing your regular cleaning habits with just mild cleaners.
Benefits of Choosing Stainless Steel Countertops
Have No Fear of Oils, Beets, Wine, Grape Juice or Even Food Coloring
Clean Your Counters with Ease and Just a Damp Cloth.
Show Off the Distinctive Feel and Look That Blends Perfectly into All Kitchens
Put Down All Your Hot Pots and Pans Without Having to Worry About any Damage Occurring
Enjoy a Surface That Maintains Itself For A Lifetime – No Sealing is Required
Frigo countertops are made with our Exclusive Matte Finish that Looks Great in Any Light.
The Matte Finish also allows us to integrate any Undermount Stainless Steel Sink right into the Counter so it looks like it was all made from one piece of stainless.
Unlike laminate and solid surfacing stainless steel is not prone to burns and will never peel.
Unlike most stone, granite and concrete, stainless steel never needs to be sealed to avoid stains.
Unlike marble, stainless steel is not susceptible to staining and will never chip.
Unlike tile, stainless steel provides a smooth even work surface and has no grout.
Unlike soapstone, stainless steel will never need polishing with oil and will never crack.
Unlike butcher block, stainless steel will not harbor bacteria or require disinfecting.
Custom Stainless Steel Countertops from a Name You Can Trust
Frigo Design has been manufacturing and shipping stainless steel countertops all across the world for over 25 years. Every countertop is custom built specifically to fit your dimensions and is packaged in a custom built crate in preparation for shipment to your door. We ensure each countertop is carefully designed, crafted, inspected and warranted to be free from defects in material and/or workmanship. Most importantly, our customer service team is here every step of the way working with you to make sure your entire transaction is handled smoothly and professionally.
CHOOSE FROM MANY GREAT FEATURES TO INTEGRATE INTO YOUR COUNTERTOP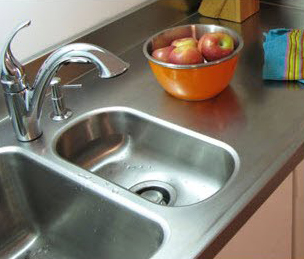 Seamless Integrated Sink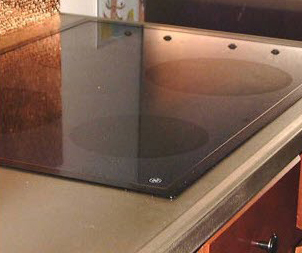 Marine No Drip Top Edge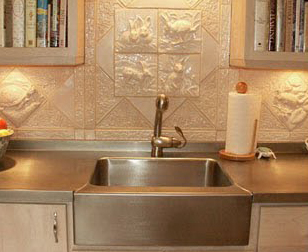 Integrated "Faux" Farm Sink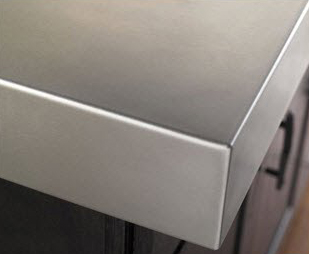 Extra Thick Metal Countertops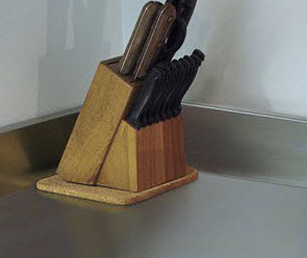 Coved Splash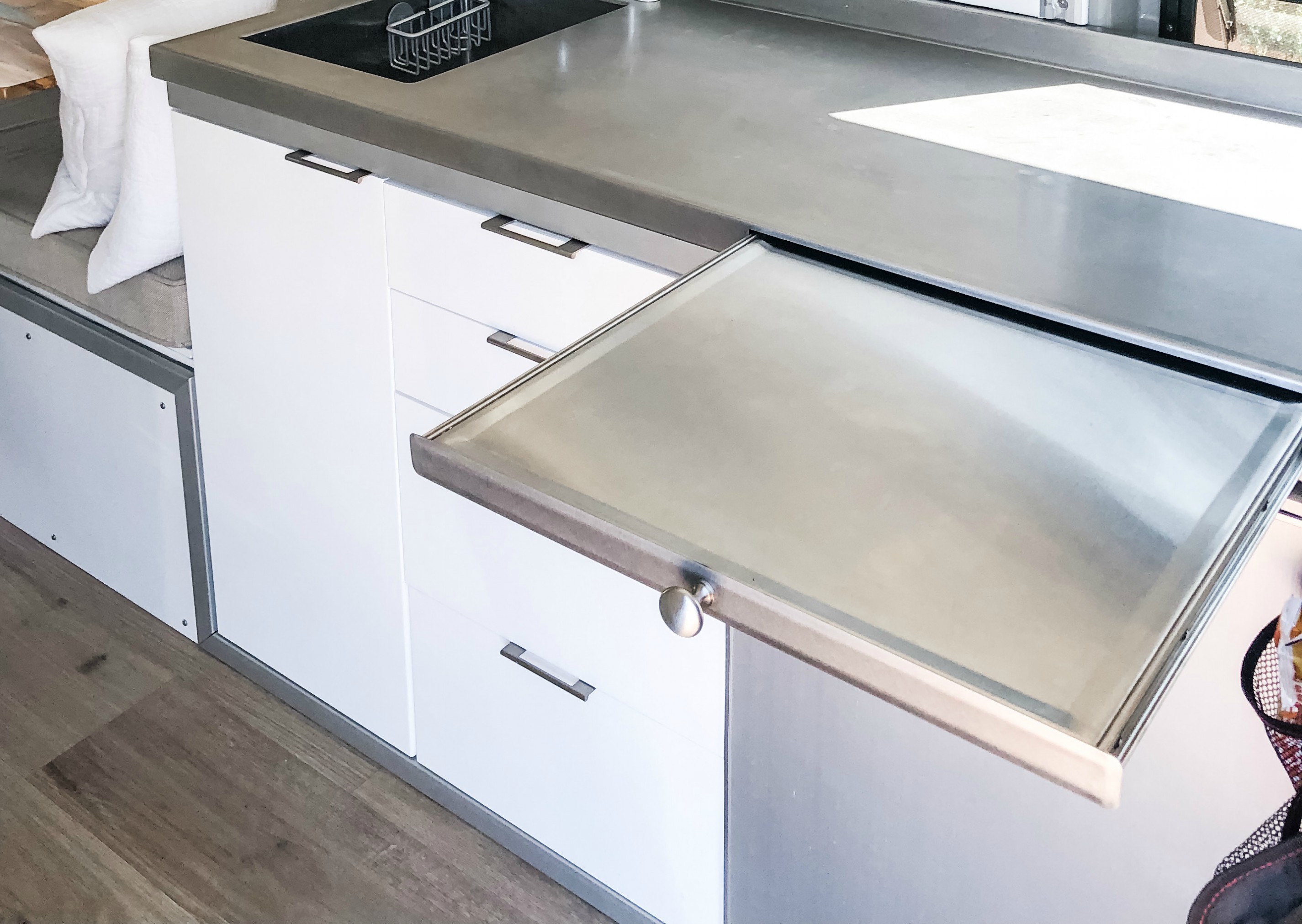 Slide-out Stainless Steel Food Prep/Cutting Board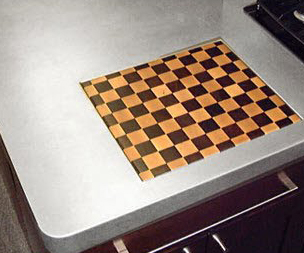 Countertop Pocket for Flush Mount Wooden Cutting Board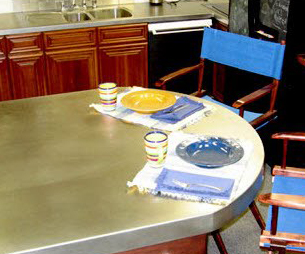 Half Round / Radius Ends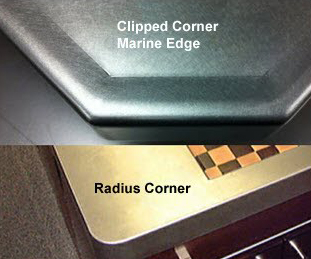 Clip and Radius Corners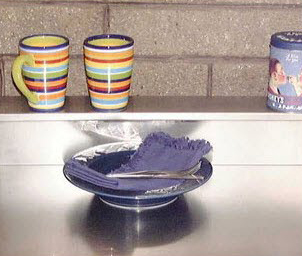 Coved Splash with Shelf

Here's How the Process WorksGuaranteed easy ordering and installation
1. Get in touch with us! You can either call us directly or submit a quote request on our website.
2. Please include all of your contact information as well as your zip code. We like to provide a shipping estimate with our quotes.
3. We will email you your full quote and you can always call us with questions!
4. If you decide you'd like to order just give us a call and we will get the process going! After your order is processed your custom design will go into our design team and they will complete a final drawing for you to approve and then it will move into production! Once the fabrication is complete we will ship it directly to you all ready to get installed onto your existing cabinets.
5. The whole process once designed takes 3-4 weeks. If you are in a time crunch we will do our best to accommodate your time frame!
6. Before you know it you will have your beautiful, custom countertop in place and will be able to enjoy all of its benefits for years and years to come.